Apple's iPhone 14 announcement: everything you need to know
Apple just wrapped up its big fall iPhone event, announcing new iPhones, AirPods, and Apple Watches. Here's what it announced:
iPhone 14 and iPhone 14 Plus
iPhone 14 Pro and iPhone 14 Pro Max
Satellite emergency service for iPhones
Apple Watch Ultra
New AirPods Pro
Apple Watch Series 8
The new Apple Watch SE
The new iPhones will be available to order Friday, and Apple didn't increase the prices as some analysts had expected. The new Apple Watches will be available to order Wednesday and the new AirPods Pro launch on Sept. 23.
Check out the rest of our coverage below.
---
Apple announces iPhone 14 Pro and iPhone 14 Pro Max, no price increase
Apple CEO Tim Cook just announced the iPhone 14 Pro, the high-end model for this year.
The smaller model with a 6.1-inch screen is called the iPhone 14 Pro. The bigger model will be called the iPhone 14 Max.
The iPhone 14 Pro will start at $999, and the bigger model starts at $1099. That's the same price as last year's models. They go up for preorder on Friday and will ship next week.
These devices have a new front design with a smaller cutout for the front-facing camera which expands the device's screen. Apple calls the cutout a "dynamic island" and it can essentially display notifications or other system information, such as baseball scores.
The iPhone 14 Pro has a lot of new features:
An always-on display that doesn't turn off when it's not in use.
Apple also introduced a new low-power mode to make the battery life last longer.
It uses Apple's latest A16 Bionic chip, which Apple says was built on a 4-nanometer process.
A 48-megapixel camera thanks to a bigger sensor.
Better low-light photography.
Redesigned flash.
It comes in four colors, space black, silver, gold, and deep purple.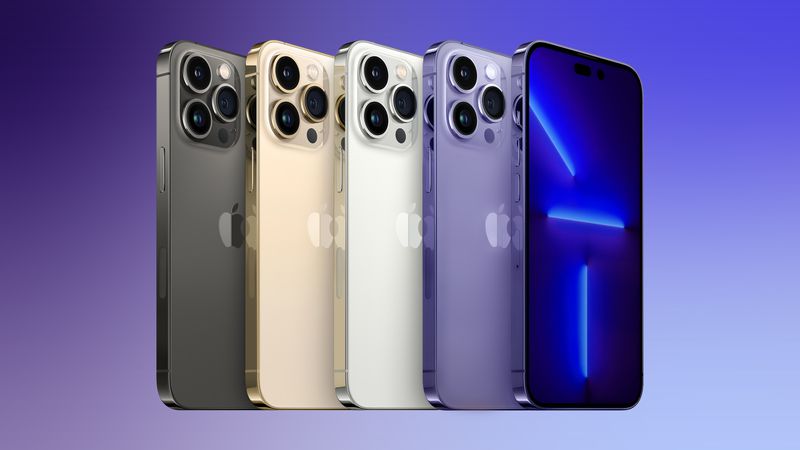 ---
Apple adds satellite emergency service feature to iPhone 14
Apple announced a long-rumored capability to connect its iPhone 14 series to satellites for emergency services during its event on Wednesday, through a partnership with Globalstar.
The feature is designed to connect an iPhone 14′s antennas directly to a satellite, to send a message in areas unconnected by cell towers.
Apple's manager of satellite modeling and simulation Ashley Williams said an algorithm in the phone compresses text messages to a size that will "take less than 15 seconds to send" to a satellite, before its relayed to a ground station and on to an emergency service provider.
The emergency satellite service launches in November and is included free for two years with an iPhone 14.
Globalstar confirmed in a filing that it is supporting the iPhone 14 emergency satellite service, and will "allocate 85% of its current and future network capacity" to support the feature.
Satellite communications — which has several existing networks that support specialized, purpose-built phones — is undergoing a new era of investment. Companies including Elon Musk's SpaceX and AST SpaceMobile have previously announced partnerships with mobile service providers, with a similar goal of providing similar satellite services directly to traditional consumer smartphones.
---
Apple announces iPhone 14 and iPhone 14 Plus starting at $799
Apple CEO Tim Cook just announced the iPhone 14. So far, Apple has announced two new models— an iPhone 14 Plus and an iPhone 14.
The iPhone 14 Plus replaces the older "iPhone 13 mini" model with a bigger model with a 6.7-inch screen.
The iPhone 14 will start at $799 and the Plus will cost $899. Preorders start on Sept 9 and the smaller version will go on sale on Sept. 16. The Plus model won't ship until October, though.
Apple said that all U.S. iPhone 14 models will no longer use physical SIM cards, replacing them with a digital eSIM that can support multiple phone numbers and is better for security.
Features of the iPhone 14 include:
True-tone OLED display
Five colors including a new light blue
Improved battery life
Ceramic screens that are more durable
Better low-light performance on the front-facing camera
Action Mode that stabilizes video
Safety service called Emergency SOS via Satellite that can connect to emergency services even if the user is outside of cellular or wi-fi range. It's free for iPhone 14 users in the U.S. and Canada and launches in Canada.